…I end up splurging.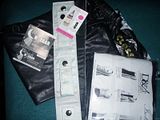 Loot from Moonlit Bazaar, PowerPlant Mall
It's that time of year when bazaars make a killing out of people buying presents for their loved ones, but I made my way to PowerPlant Mall today to shop for myself.
It started when I wanted to check out a pair of shoes from Summersault: I'd seen them on Tricia and wanted to try them on, at least. They had a stall at The Moonlit Bazaar (from November 27 to 29) and I was in the area anyway for a friend's birthday party. My inner shopaholic could not resist, even when presented with a P100 door charge (sigh).
The thing with door charges is that once I get into a bazaar, I feel like I have to purchase something to make it worth my while. I ended up getting a bag holder from Style and Carry Bags (P250), liquid leggings from Coeur (P650), and a multi-way cardigan from Decadence&Affluence; (P550). Adding my purchase of Empire macarons (P280 for a box of 9) from the Baker's Dozen exhibit to the total amount, I spent way more than I should have for one weekend. In fact, it's the biggest amount I've ever spent in the Rockwell area. (On the plus side, I didn't get lost exiting Rockwell like I always do. Rockwell must be pleased with me.)
But this week I realized that a lot of the interesting things in my wardrobe have all been impulse buys anyway. I guess I should think of what I bought as an investment. (This is stating to sound like Confessions of a Shopaholic. Gaaah. Will stop buying clothes for now.)
Tags: Fashion, Shopping. Bazaar, Splurge
Did you like this post? Share it with your friends and followers!